1932 Ford frame rails
Die stamped 10 gauge steel.Stamped in rear C notch for axleclearence Great detail in the side rail,all body mount holes in stock location. The perfect foundation for your deuce chassis.
Only $695.00 pair
Full length boxing plates $135.00 pair.
Other parts to consider;
Polished stainless spreader bars,$55.00 front , $85.00 rear
Model A front crossmember for unboxed chassis $85.00
Super low front crossmember for boxed rails $99.95 (must use radiator with flat bottom tank)
Don't forget your adhesive frame welting $24.00 20' roll
1932 Ford "K" member
Building a flathead power car?This K member is the main component needed.(shown sitting loose in frame) $455.00

Better pictures soon.Ask me about 32 pedals and trans mounts.
Misc.frame stuff
CE center X-member 1934 Channel style
with trans mount $275.00

Tubular X-member,lots of options here
various manufacturers and style
Buggy spring rear crossmember ('40 spring) $215.00

Rear ladder bar crossmember $72.50 (pictured)

Engine mounts, pedal kits, everything to finish your chassis.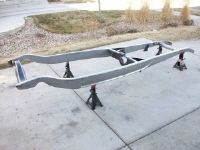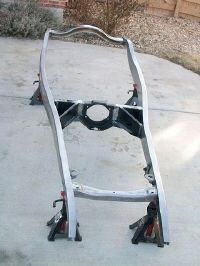 rileyauto@comcast.net

1-800-530-7636