We'll see how I do updating this page.
here is the idea..I'll take a picture of your frame when it's done
and shipping out. Kinda like it's birthday.
First name and state and date..
You can watch and see how busy we are !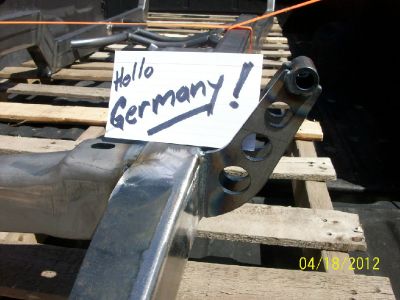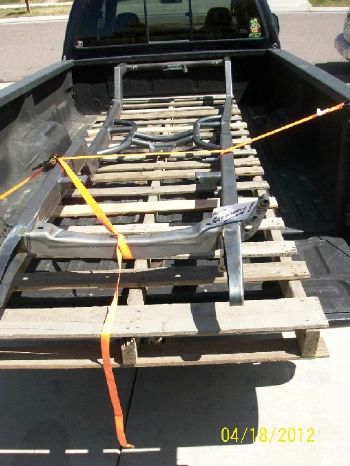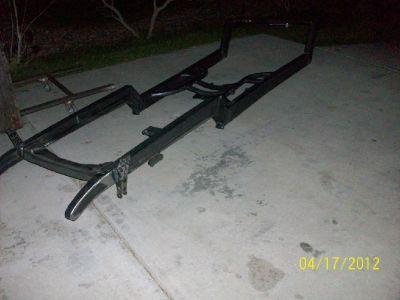 Danny in Germany Via Texas / Shipped 4-18-12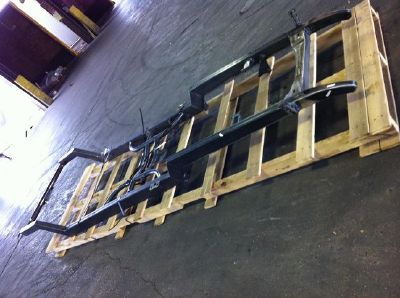 Andy in CA. / Shipped 3-14-12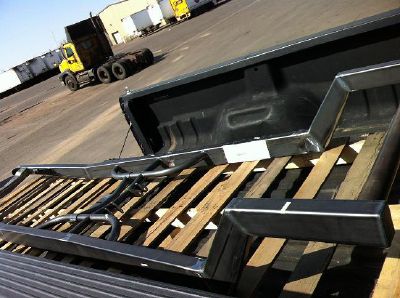 Kevin in WI / Shipped 3-12-12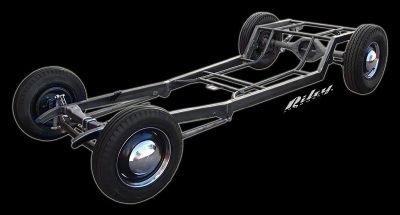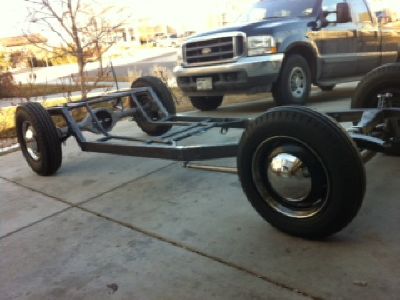 Doug in WA. / Shipped 3-6-12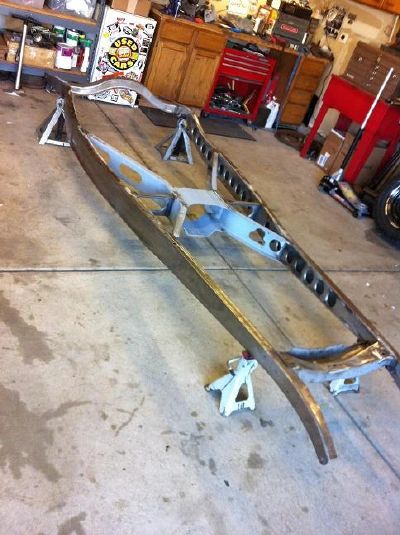 Erik in WA. / Shipped 3-1-12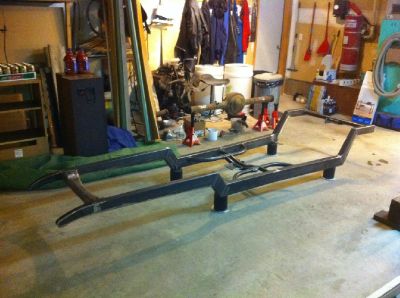 Ron In Canada


Josh in CA / Shipped 2-14-12
Mike in Fresno CA. / Shipped 1-27-11


12-9-11
Local hero Adam picked up his chassis.
Wait till you see his 1928 Chevy sedan !
Spring behind,32 heavy axle-good stuff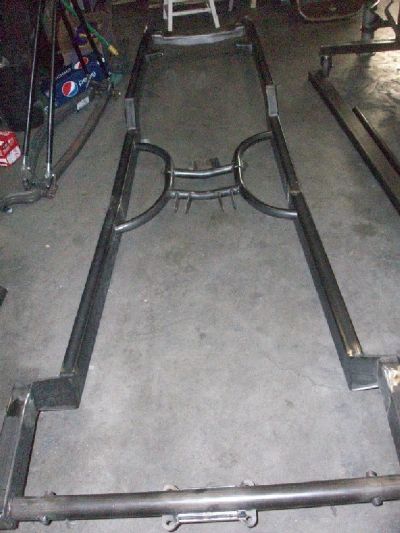 1-18-12
I'm getting all mixed up with pictures and dates
This is a double z'd and a swept front going to Canada via Sweetgrass
and the other the land of Potatoe's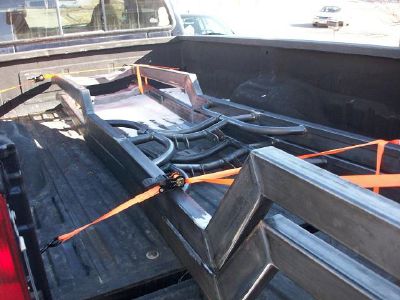 Didja ever have one of those days.
After buying pallets and borrowing a steel bander.
thanks Mark ! ( Colorado powdercoating rules)
Finally get the two frames shipped.
I just might start shipping on these long pallets...we'll see..
Got more from Dec. to show, I-phone pixs..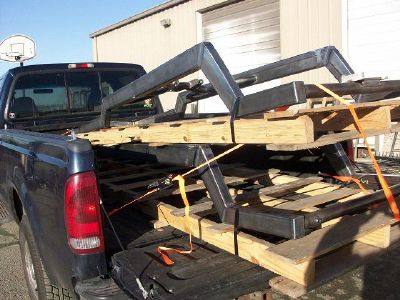 Ernie in PA - Shipped 12-2-11

Ernie in PA - Shipped 12-2-11

Scott in WI - Shipped 12-2-11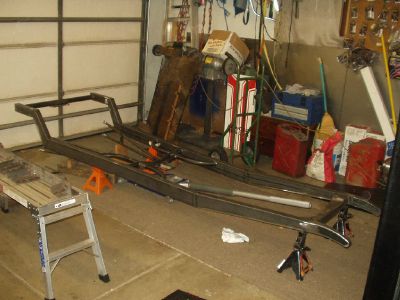 Troy P from KS. - Picked up his frame 11-25-11
"Hey there, we made it back and everything went great! Thanks again for pushing it through and meeting us over the holiday. We are making progress, got the front end mocked up and hope to mount the rear end this week.
Thank you, great working with you! "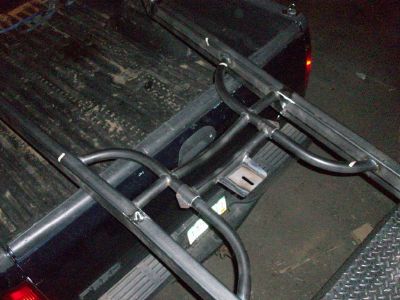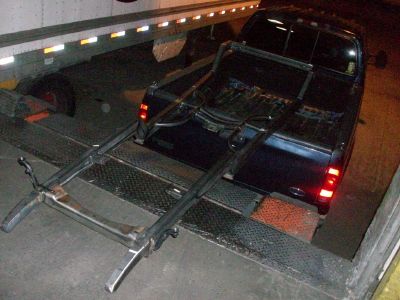 G Herman Shipped to NY 11-15-11
Shipped 11-15-11
Both frames one and the same.Vern in NV had his frame in the studio.
10-25-11 shipped out,and he got it already.I'm trying to keep
this list going correctly.....

Shipped one to Dan in Indiana.(look for the email list today buddy)
Had the camera in my pocket,plain forgot. I get near Taco Star and
I can only think of one thing.. He recieved it on 10-26-11


It's stacking up around here..Let's see..
Masato's Victor frame shipped out Monday (finally-dude fix your visa)
(call them and make things right) recieving 10-19-11

Got Joe's out to Napa CA..recieving at muffler shop today 10-19-11
And the other one is Kit's in OK. Picking up in Tulsa.Wish I was in Tulsa

One left Friday 10-14-11
The other two Monday 10-17-11

My Tudor project in the background.(proto type frame)


Completly spaced taking a picture of Scott's frame in Idaho Falls,
hey ! send me a picture of it in the shop and I'll post it up !
Went out 10-7-11 delivered on 10-11-11



Chris in OR. shipped 9-29-11

Only the best for my Oregon brothers,
got the ladder bars shipped out too bro.





S.French in CO. Shipped 9-25-11

well not shipped, loaded up the dirt bikes and met up
in Glennwood springs. Forgot to take a picture. Hope to see the 4 door
on the frame soon.
Went for a great ride at Hardscrapple ! 4 strokes 4 fun !







Shane S. in IL. / Shipped 9/20/11

There you go bud,let me know when you have it
in your garage.eriC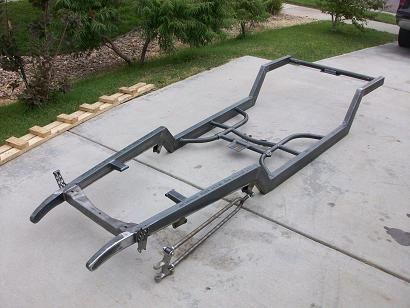 Richard S. in CA. / Shipped 9-9-11
Rich drove up from Pine Valley Ca. to pick up his new frame.
Custom built for his 1946 Dodge pick up cab.
Installed his hairpins,and he picked up a new dropped axle and ladder bars etc.

Rich,glad you came up,nice meeting and had fun talking about hot rods.
Please tell your boy, NO on lime green anything.
eriC
Zane S. in CA. / Shipped 9-1-11

Whew,took couple extra days to get out,waiting on rear axle fab.
(top pic,make out the rear housing in the bed)
Shipped to my buddy Justin's place in 'diego, thanks ! very nice of you to
take in my freight. I bet Zane liked your coupe too.


Matt P. in MN. / Shipped 8-18-11
"The frame showed up today,and damn is it nice"
Matt P. 8-23-11
(I forgot to take picture on the dock,but notice the 1095 headlight shock mount combo!)

Ryan Z. in PA. / Shipped 8-15-11
Victor style low version, set it up for split bones too.

Mark G in CO. / Shipped 8-13-11

Important picture,besides delivering Mark's frame..
Got my F250 fixed ! Thanks Mike
and has long as I had to drive over the mountians,
decided to go dirt biking. Rode all over Vail pass and Gypsum hill


Dave W. in Florida 8-10-11 shipped via SIAI
Didn't take a pic on the dock, but his made it into our studio
This is the exact frame we shipped to Dave, will be in our new
magazine ads...keep your eyes peeled.
Eric M. in Ohio / Shipped 8-2-2011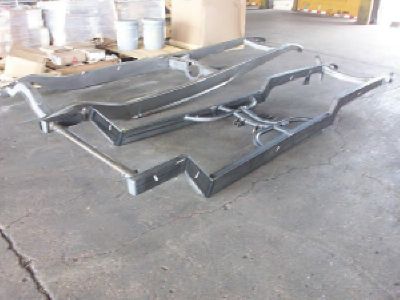 Cater in Austin Custom 32 AV8 / Shipped 7/25/11

Paul H. in New York Double Z / Shipped 7/25/11

Bill W. in NV. / Shipped 7-6-2011
Victor V. in CA. / Shipped 7-1-2011
Dan R. in PA. / Shipped 6-23-2011


Mike M. in MI. / Shipped 6-15-2011
Ron W. in IA. / Shipped 6-14-2011
Bob D. in CO. / Shipped 6-10-2011
Jared D. in OR. / Shipped 6-8-2011
Tony F. in MD. / Shipped 5-26-2011
Doug G. in ND. / Shipped 5-16-2011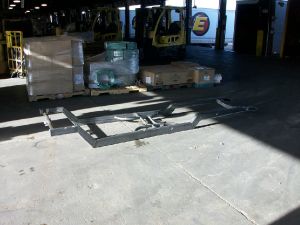 Josh M. in GA. / Shipped 4-16-2011