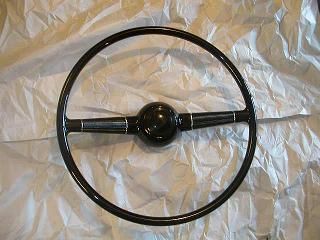 1940 Ford Deluxe steering wheel full size as original.
Black with stainless trim. Plain horn button includes
spring and I toss in a steering wheel nut. Fits all tapered
and keyed ford shafts. Paintable

$245.00

Ask me about cool Hot Rod 1940 style steering columns.


Track Roadster Wheel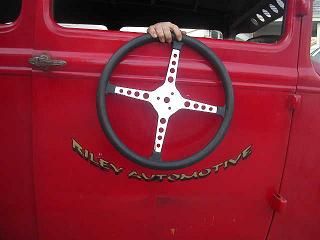 14" 4-spoke Bell style wheel.
Drilled like any race car part should be. Comes with center cap

$175.00

3-bolt center fits grant adapter
ask about skinny hot rod column

1940 Ford/GM column




Here's a 1940 Ford Deluxe steering wheel for the GM
steering column, and most aftermarket columns
(ididit, flamin 'river etc.) 15: diameter, includes
horn button and contact. I'm working on a bill to start a new law, all billet wheels must be melted down and recyled into Miller High Life cans. And this is the perfect wheel to replace the 80's stuff with something with classy old Ford looks

$269.00


14" 4 Spoke Bell Wheel





Comes with cap pictured smooth rubber grip. Perfect size and style for Model A coupes.

$169.00

Also available in 3 spoke for $169.00
17" Bell Style 4 spoke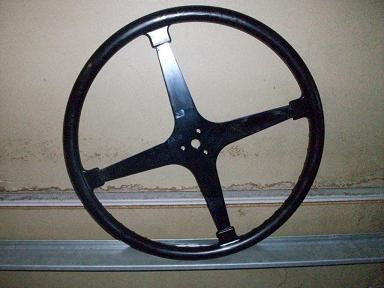 17" diameter hard rubber grip, little bumps on back to help you hold on. Perfect size for hot rod trucks and 1936 roadsters. A bit large for Model A's, but i've seen it done. Comes with center cap.
(3 bolt mounts) $189.00.

Custom length steering columns available in plain steel or polished stainless steel. Adapter to Ford columns available $24.00. Fits grand adapters too.


"Butterfly" Chevrolet accessory wheel

Originaly made for the 1950-52 Chevy. A good one to use on you GM based custom. Get rid of the 70's Camaro wheel now! I try to keep in stock at all times, available in black or white.
Paint to match or contrast your interior/exterior.
$289.00
(or trade for a case of Jack Daniels).